I decided to pick one of these up after PaulCTs post lead me to discover that these things aren't as incredibly expensive as I thought they were.
The city state of Corinth, and its colonies, issued these coins for centuries. Staters minted in Corinth bear an archaic greek qoppa ('Q'), from the old spelling of the city's name - Qorinth. Symbols appearing behind Athena's head allow you to narrow down the date range somewhat; the symbols here are a 'race torch' and the letter E, dated to 400-350BC. I got quite lucky to find a cheap one with the torch symbol; it was the one I was after.
This example has a nice tone with the original surfaces looking good but with some deep scratches, especially on the reverse, though in hand they are not distracting. I went for this type based on the obverse, so I don't mind a mangled reverse.
CORINTH, Corinthia, AR Stater, Ravel 993.
8.26g, 19mm.
Helmeted head of Athena, E and race torch behind.
Pegasus flying left, qoppa below, CORINTH mint.
Listing picture: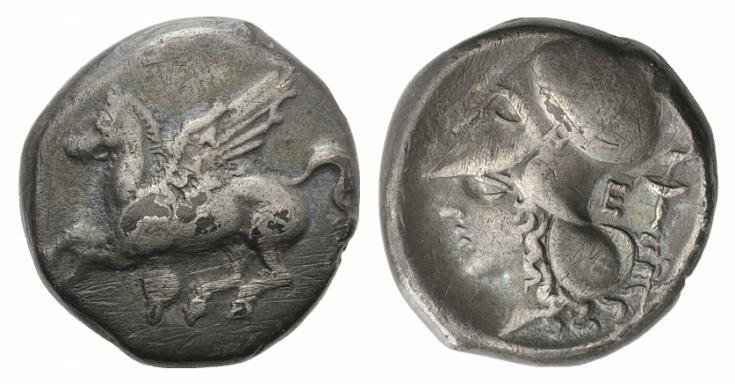 The same coin at Auction earlier in the year:
And the best I could manage:
Definitely a dent on the budget, but I'm calling it an 'investment'. For my own peace of mind (I reckon I got a good deal after haggling) - what do you all reckon would have been a fair price to pay for it?