To identify these, it is best to know what areas to look for to see if they are a doubled die, master die doubled or machine doubled. So we will deal with this thread as to what to look for on a 1972 doubled die. First thing to look for on these is the date: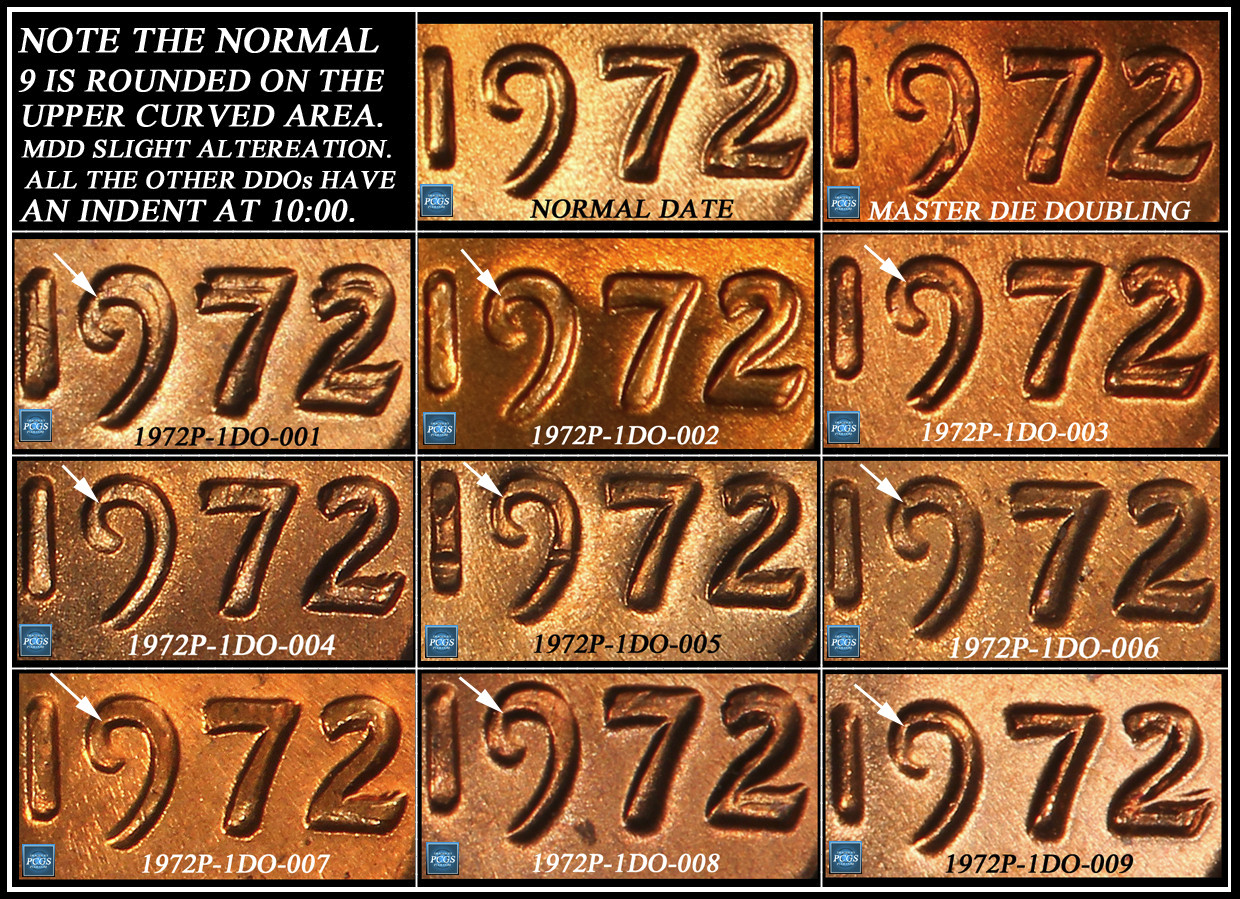 On the 1972 plain DDOs the date looks different than a regular coin on the '9' on the date. So check there first. Note on the above example the normal shape '9', the master die doubled '9'. Note the are pretty rounded on the arc of the that device. But not on the lower examples how the hub doubling altered most of the doubled dies? Ste strong the miss hubbing, the arc is altered. Note the arrows on these examples. You don't have to memorize them, but now you will know where to look first for the doubling on the date area. There are also examples of other things to look for on the date area. Some dies will have direction the spread. Some in the clock wise (CW) direction and some in the counter clockwise direction CCW).
On the 1972 doubled dies from Philadelphia, the 001-008 are all class one doubled dies. These will show a rotation of the hubbing either CW or CCW. So Being able to tell which one is which is a task, but They are pretty easy.
1,3,6 and 8 are CW. 2,4,5 and 7 are CCW. Some dies are easy to spot, other can be confusing:
Die number one:

This one has the strongest spread. This one is not confused with the others.

Die 002 and die 007 are often confused. So here is 002:

So here is a side by side of the #2 and #7 side by side: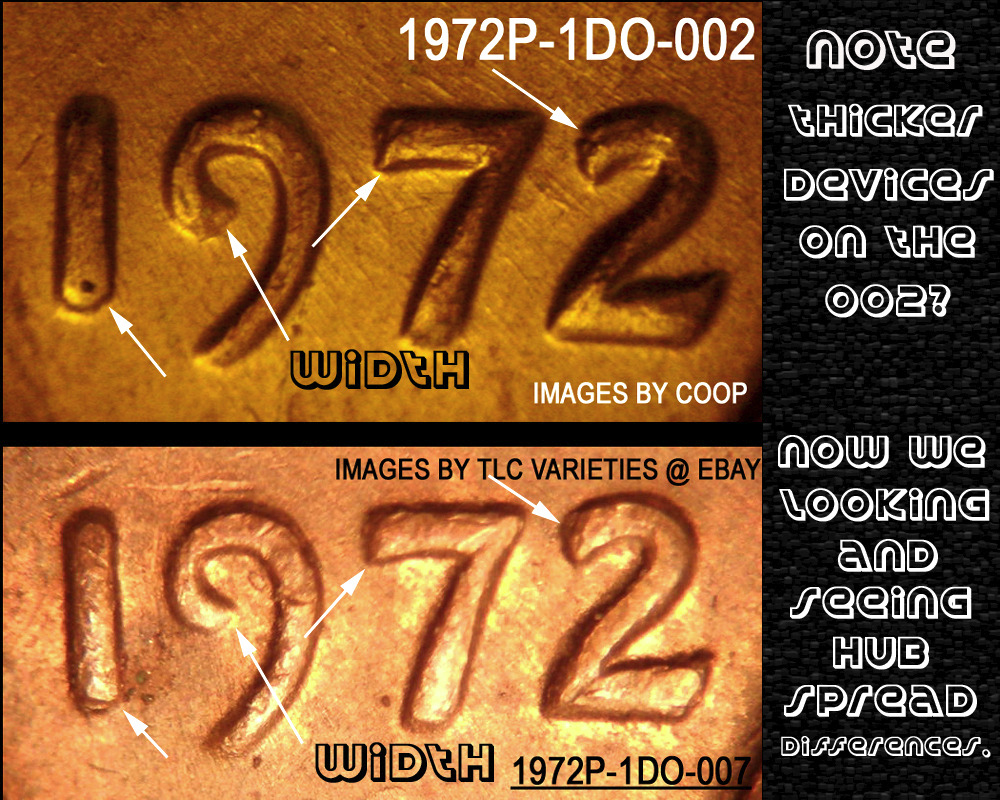 Die 003:

Die numbers 003 and 008 are often confused, so I made a side by side of each area of the die to compare them with.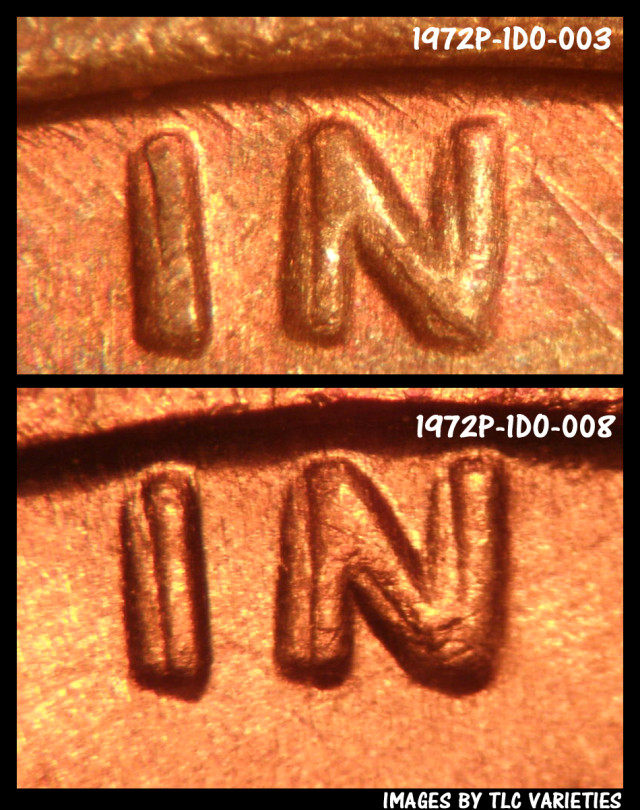 But after looking at the date areas, I noticed how the dates on #3 and #8 are different:

Die number 004:

Marker for 004:

Die 005: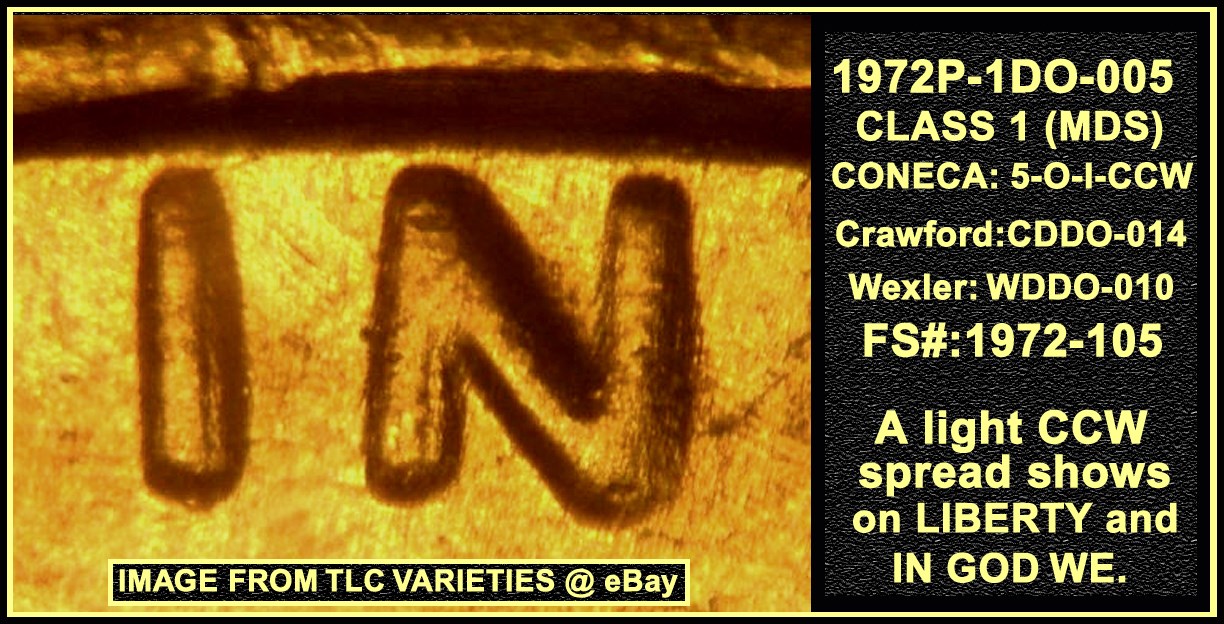 Die 006:

Marker for 006:

Die 007: (Side by sides with 002 above)
Die 008: Side by sides with 003 above)
Master die doubling: what to look for.
coophome= 1972
DDO
's
Edited by coop
02/13/2018 4:18 pm
Report this Post to the Staff