The 1981 is not an off center. If it were then both sides would be off center. It might be a MAD coin. (Mis-Aligned-Die error) What is that? When the dies are put into the machine, there is a hammer and and anvil die. In this case the obverse was on the hammer die (which is adjustable to have it centered exactly over the opposite die) The anvil die is not adjustable. So if the hammer die is not exactly in the right alignment, then the rim is not be centered, but just one side of the coin. But on your coin the dies adjustment is not off center enough to warrant a premium. How can I tell what is collectable? If the devices fall over the edge of the coin, then it is a collectable. Like this example.
Also if your coin was an off centered coin, then the reeds on the edge of the coin would not be present. So coin #1 is basically a normal coin with a MAD obverse. So it is spendable. (The premium is knowing what to look for. Now you know.
The second coin: (Best to put
only one coin per thread
, as I like to tell you what I see on your coin) On the 2015 what you are seeing on it is called
Die Deterioration Doubling
. (DDD) The die is showing its age. How do I know that? As the die ages, it develops a die wear pattern that is seen first on the fields. These are called flow lines. As the die ages more then it affects the devices. (letters and numbers)All the devices starts to move towards the rim of the coin. On the motto you can see where the devices are doing that. It is moving towards the right. LIBERTY is also doing this, but moving towards the left. (you can see the movement on the left side of these devices) But this is not hub doubling (AKA a doubled die). Your coin has DDD because of the high numbers of coins struck so far in its life. Soon to be retired. But where should I look to find a doubled die? On the States and
ATB Quarters
, you would look at the ear for a doubled die on this series of coins.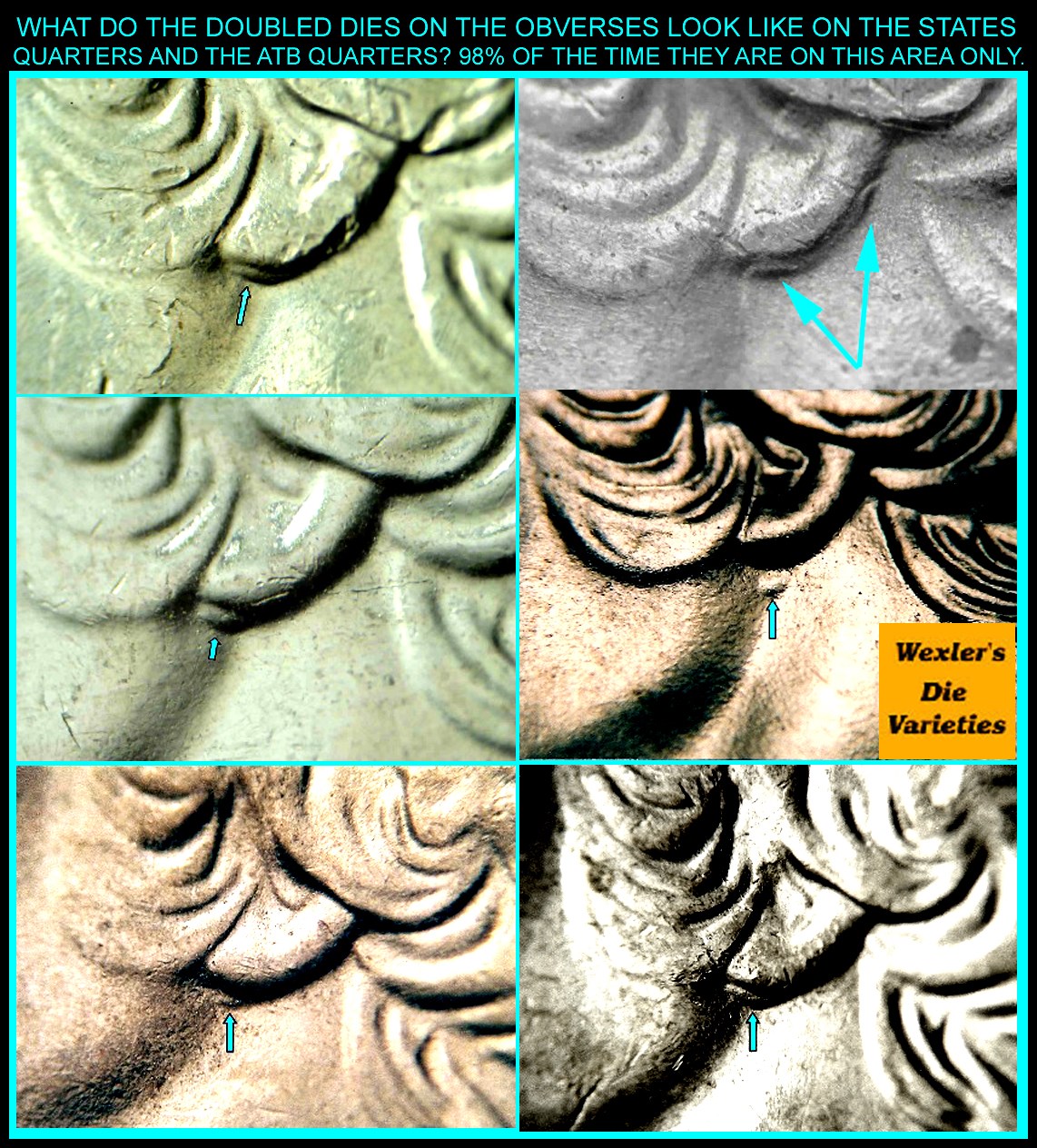 This is the areas to look for
DDO
on these States and
ATB Quarters
. Same on the reverse. On the central areas of the die areas.
Again coin #2 is not a premium coin. Just an aging dies last few coins. Hope this helps.
Edited by coop
04/24/2019 9:09 pm
Report this Post to the Staff